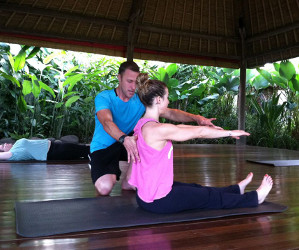 TBC
Join Jamie Isaac for a week of mind, body and spirit allowing you to connect and centre, on location in Bali.
Our Bali Pilates retreat takes place in the beautiful and vibrant beach area of Cangu. Elevate your practice surrounded by nature, beaches, rice paddies, and the sun-kissed energy of Bali life.
This Pilates retreat will immerse you into a world filled with celebrating incredible movement and delighting in nourishing, tasty food. Jamie Isaac will guide you through a week of classical Pilates immersion, filled with practice, breath, mindfulness and Q&A discussions, for a Pilates experience of a life time.
2 – 12 Aug 2017 – Desa Seni Eco Village – Sold Out
2018 Next Bali Pilates Retreat dates and info coming soon.
Absolutely everything about this trip was inspiring. The open studio space alone, surrounded by lush gardens, and water falls would have made it for me, but with Jamie's attentive and caring teaching, the really tasty meals, and the beaches with the surfers, the sun, the temples… I'm in heaven again, just thinking about it… – Michelle