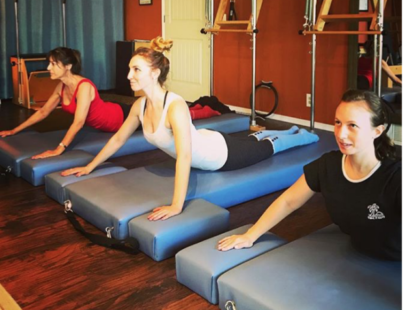 Online Group Mat Pilates Classes
ONLINE GROUP MAT, sessions to for all levels. I believe in quality of experience and students receiving plenty of expert attention, therefore will keep class sizes small. Book early to avoid disappointment.
Prices:
Zoom: Limited participants – $20
Zoom: Community Classes – Donation based
Anyone interested in "living younger, longer, pain free" could benefit from training with Jamie! – Alan M. Vista, CA
Contact Jamie to Book a Session
Online Zoom & Studio Classes
Welcome to our fully equipped Pilates studio. Jamie is offering both in person sessions and virtual classes. All levels and abilities are welcome. 
Monday:
Afternoon Sessions available
Tuesday:
Private Sessions – Contact to register
Wednesday:
9.30 – 5 : Private/ Duet sessions
Thursday:
Private sessions – Contact to register
Friday:
Private Sessions
Contact to register
Saturday:
Private Sessions – Contact to register
'Thank you for the online session! My shoulder feels better & my hip isn't hurting now; I also slept better!' – Trish, San Diego
'Your classes have made an immense difference to me during this pandemic… Now I feel like I have a real connection to the world! Thank you from the bottom of my heart' – Joy – Alabama
Pilates sessions with Jamie will energize and uplift. Jamie is a very experienced, professional and caring teacher.
"I have experience training professional athletes, as well as sports rehabilitation and pain management. I will draw from over 25+ years of coaching and teaching experience to ensure that your sessions take you beyond your goals, to keep you healthy and feeling great."
Ultimately I love what I do and will bring passion and energy to every class.
I believe in quality of experience and therefore will offer most sessions with limited participants. Book early to avoid disappointment.
To promote community and inclusion, I will also be offering donation based Zoom sessions. These will be open to more particpants.
"It is the mind itself which builds the body." – Joseph H. Pilates
Contact Jamie to Book a Session