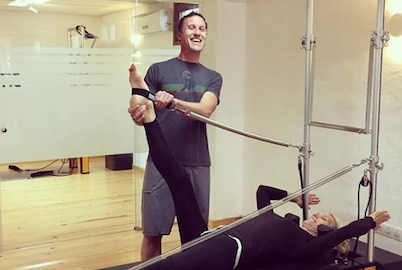 Private (1:1) Online Zoom sessions: These allow you to maximise your time, stay healthy and safe with a tailor made session to work towards your personal goals, or to rehab injury. The cost of a Private online session is NOW $70.
"Thank you for the Zoom session! My shoulder feels better & my hip isn't hurting. I also slept better, so thank you!" – Trish Nth County
Group Mat, Reformer & Tower Pilates Classes
We offer limited group studio classes on mat, tower and Pilates Reformer for all levels. We believe in quality of experience and students receiving plenty of expert attention, therefore we keep our class sizes small. Book early to avoid disappointment.
Prices:
Drop in $30 
10 pack $250 ($25/class)
Anyone interested in "living younger, longer, pain free" could benefit from training with Jamie! – Alan M. Vista, CA
Contact Jamie to Book a Session